Ok there are literally TONNES of good artists out and about and i like them all, but I thought i'd post what I'd found here in hopes of inspiring others or seeing what else comes from it..
- GrainEdit :
http://grainedit.com/

a fantastic site of contemporary and 50's artwork.. strange i know but its vintage... i hate that term... :/ but FANTASTIC artwork
- Toycutter:
http://www.toycutter.com/
custom toys/figures, graffiti style
- KillerGerbil :
http://thekillergerbil.com/blog.html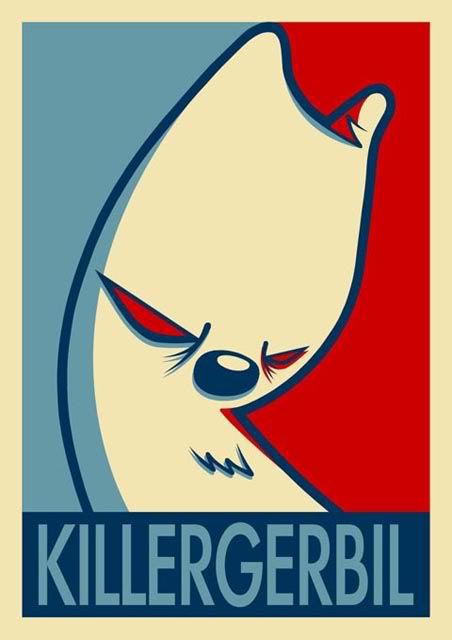 graffiti artist
- Michael Hacker Illustration :
http://www.michaelh
acker.a
t/?cat=6

Screen print, band posters
- ZZVE.com :
http://www.zzve.com/
stock illustrations, good examples of varying styles etc
- Common :
http://www.aplacecalledcommon.co.uk/
a Bar in manchester, often displays contemporary artwork, definitely worth a visit.
current exhibition on Jim Medway
- antikewl :
http://antikewl.com/daily/category/art/
ANOTHER blog of all sorts, great artists and animation
- PSDTUTS:
http://psdtuts.com/category/tutorials/
photoshop tutorials plus other bits
- Chris Madden illustration :
http://chrismaddenillustration.blogspot.com/
yet more blogs
- MOCA (museum of computer art) :
http://moca.virtual.museum/index.asp

collection of varying artists
- Root Magazine :
http://www.rootmagazine.org/archive.html
bit like Juxtapoz magazine.
- Rebecca Manley :
http://rebeccamaevemanley.blogspot.com/
a friend of mine, her work is sometimes like 3d illustration although she's been told technically its not or something... anyway, i love some of her work, if you like TACTILE you should like her stuff.
- Royalty Free Textures:
http://www.cgtextures.com/
one of the better texture sites ive found, good quality pics, even some xrays on there :)
- Richard Goodall Gallery (manchester) :
http://www.richardgoodallgallery.com/
a little treasure trove of contemporary art,photography etc.. both a gallery and a shop, great collection of screen prints.
- Rob Bailey :
ive not been able to find much on him but his work reminds me of a modern digital version of charley harpers and was exhibited at Common. the only thing i properly found was this from the M.E.N
http://blogs.manchestereveningnews.co.uk/arts_and_minds/2008/01/hello_world.html
hopefully that will keep you all going for a while, whilst i filter out the next set of links to post :)
oooh and a final link for those wanting to screen print on t-shirts...
http://www.polo-shirts.co.uk/
i havent checked the company itself etc nor used them myself yet, but figured for those who might be doing some of their own it could help... i want to order some soon, but will have to wait for some cash ;)
take care